Nairobi is a city that is filled with attractions to suit every preference.
Areas you can visit are like museum visits, art galleries, wildlife, cultural and historical venues or even authentic African cuisine.
Nairobi has something to please your every desire.
Select Your Nairobi Tour Attraction For More Details On The Experience
1. Nairobi National Park Day Safari – Covering more than 45 square miles (117 sq. km) of grasslands, forests, rocky valleys, forests and wetlands is Nairobi National Park, Kenya's oldest national park and the only one in the world that is situated amidst a capital city.



2. David & Daphne Sheldrick Trust Elephant Orphanage Tour – This globally recognized trust rescues and rehabilitates elephants and rhinos that have been orphaned due to poaching and habitat loss, and hundreds of infant elephants have been hand-raised and reintroduced to the wild at Tsavo East.
3. Nairobi City Tour – Your city tour includes a visit to the Nairobi National Museum, Nairobi Snake Park, shopping areas, local street markets, significant buildings and other areas of interest.
4. Nairobi National Museum Tour – Experience an educational and relaxing experience at museum as you spend your time exploring the art gallery and varied exhibitions, discovering the richness of Kenya and her people.
5. Nairobi Snake Park Tour – This distinct herpetology attraction works to promote and preserve the snakes and reptiles that are found in Kenya. Also present are displays of marine and freshwater fish, reptiles, amphibians, birds and small mammals, as well as invertebrates.
6. Karen Blixen Museum Tour – In 1986, this historic "Out of Africa" house was opened to the public. The home of Karen is situated at the foot of the Ngong Hills. Although the property is historically breathtaking, the most memorable part of visiting the museum is the house and its contents.
7. Giraffe Center Tour – The center was first opened in response to the endangered status of the Rothschild giraffes. The most exciting part of your tour  is visit to the Giraffe Center
Get the best experience of seeing these animals up close and even feeding them.



8. Kazuri Beads Tour – Started in 1975 to help support single mothers, Kazuri Beads provides employment opportunities to local communities and, today, more than 300 Kenyan women work for the organization.
9. Dining at Carnivore Restaurant – This distinct restaurant has been satisfying the appetites of meat lovers and safari adventurers with a never-ending selection of ostrich, crocodile, venison depending on what is locally available, served alongside beef, lamb, pork and chicken.
10. Bomas of Kenya Tour – This venue offers a cultural tour of Kenya's major ethnic groups, such as Mijikenda, Luo, Taita, Embu, Maasai, Kikuyu, Kamba, Kalenjin, Luhya, Kisii, Kuria to name just a few of the native peoples that are represented.
11. Karura Forest Reserve Tour – The reserve covers approximately 2500 acres, one of the largest forests in the world that exists in the suburbs of a city. Here, you can escape the hectic pace of city life to settle into a natural green space  with  fauna.
12. Nairobi Gallery Tour – In the heart of Nairobi, the Nairobi Gallery is a national monument that houses art exhibits of both local and international artists. The Victorian-style structure was built in 1913 to serve as the Native Ministry.
13. Kenya National Archives Tour – This venue preserves significant public records and national documents, as well as a large collection of African arts, such as basketry, pottery, traditional weaponry, masks, ornamental art, sculptures, paintings, beadwork, textiles and photography.
14. African Heritage House Gallery Tour – Collected artwork and artifacts from around Africa that are displayed inside this residential home, making a tour of African Heritage House an intriguing and unexpected way to learn about the native peoples of Africa.
15.Plane club . This unique club house celebrates aviation in Kenya. It provided pilots, engineers and enthusiasts a place to gather and share stories and knowledge. It was founded on July 31, 1927 with a mission to "promote, encourage and regulate aeronautics in Kenya".
16. Nairobi Railway Museum – The railway played an important role in establishing the city of Nairobi, and the Nairobi Railway Museum, located at the northwest end of Nairobi Station, gives you insight into the historical and commercial significance of rail travel in Kenya.
17. Limuru Country Tea Plantation Tour – Visit one of Africa's finest brew plantations – Kiambethu Tea Estate, that was built in the early 1900s by two English families. A lovely lunch and afternoon tea are included with a tour of the plantation and surrounding forest.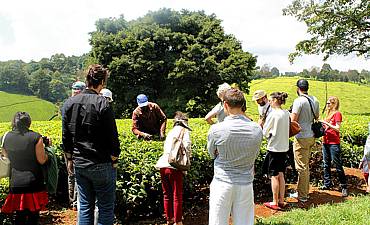 18. Tana River White Water Rafting . Excursion on Tana River encompasses a combination of rapids  and calm waters for around 7 miles. Ending with a delicious barbecue lunch at a campsite.



19. Lake Nakuru National Park Day Safari – Experience safari game drives and lunch at Lake Nakuru National Park, a unique Great Rift Valley Lake System park and a UNESCO World Heritage Site. The prominent wildlife in the park includes 56 mammals and 450 bird species.
FOR THIS SAFARI AND OTHERS WRITE TO US ON info@global-safaris.com
or
whats app +254774402222