11 DAYS UGANDA, RWANDA & CONGO TOUR
This tour has been designed with your comfort and sense of adventure in mind. From the moment you are picked up at the airport, you will have a dedicated car and guide/driver at your disposal to transport you to all the exciting places in the programme.
Day 1: Welcome to Rwanda!
Your driver/guide will be at Kigali Airport to pick you up from your flight.
Depending on your arrival time you may be able to visit some of Kigali's craft markets to browse amongst the pottery, carvings, batik, weaving, sculpture, musical instruments, leather and fabrics on offer. Prepare to use your haggling skills! All activities and purchases today are at your own cost.
Your accommodation is in a quite subburb of Kigali in the newly build Flame tree village. This hotel will make you feel right at home.
Journey Time: 15 minutes from airport
Accommodation : Flame Tree Village
Meal Plan: No meals inclusive today
Day 2: To Nyungwe Forest N.P.
In the morning you will meet your guide who speaks good English and will be with you during your entire tour. Both Rwanda and Congo are french speaking countries and communication in English can be difficult. You will set off towards the famous Nyungwe Forest, one of the largest forests in East and Central Africa. The forest is abundant with flora and fauna including 13 primate species from colobus monkeys, mangabeys, blue monkeys and, of course, our cousins the chimpanzees. Nyungwe Forest is also a famous location for birders. With about 310 recorded bird species, 26 of which are endemic, this is one of the most important – and still little known – bird-watching destinations in Africa.
In the evening, you will settle into your room at Top View Hill Hotel. The views are stunning and you will have a nice hot meal in the cozy restaurant.
Journey Time: 6 hours
Accommodation : Top View Hill Hotel
Meal Plan: Breakfast & Dinner
Day 3: Chimpanzee Tracking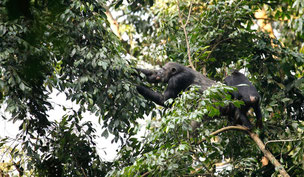 After a very early morning start, you will proceed to the chimpanzee tracking trail in either the Cyamudongo or Uwinka sections. The total population between the two groups is a healthy 80 individuals. This exciting up-close encounter with human's closest relative you will not soon forget.
In the afternoon you are going for a special activity to track down the Ruwensori Black colobus and other rare monkey species that live in Nyungwe forest N.P.
In the afternoon you are going for a special activity to track down the Ruwensori Black colobus and other rare monkey species that live in Nyungwe forest N.P. This is the only location in Africa where you'll find "supergroups" of more than 400 Colobus monkeys in the wild. It is also one of the few places worldwide where you'll see L'Hoest's monkeys.  Another rare animal you might also run into is the owl-faced monkey, an Albertine Rift endemic that inhabits Nyungwe's southern forests. In fact, most of the monkey species found in the park are endemic.
Day 4: To Bukavu in DR Congo
After a relaxed breakfast you will continue the journey to the heart of Africa, the Democratic Republic of Congo.
This scenic route passed over the rolling hills of Rwanda and the shores of Lake Kivu until you reach the city of Bukavu. You Congolese driver will pick you from the border and take you to your accommodation for the night. Your English speaking tour leader will accompany you the entire trip.
In the afternoon you have time to explore Bukavu with its old colonial architecture and impresive cathedral in the city centre. You can also just enjoy the lake view from your veranda.
You will stay in a semi-luxury hotel called Orchids Safari club. This sleek and elegantly decorated hotel offers a mixture of contemporary and traditional African styles. You will not expect this stylish accommodation on the shores of Lake Kivu. It is the perfect starting place for tomorrow's activity.
Journey Time: 4-5 hours
Accommodation : Orchids Safari Club
Meal Plan: Breakfast
Day 5: Lowland Gorilla tracking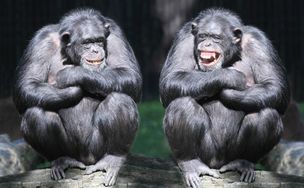 Early in the morning you will depart for your first Gorilla tracking of this tour. The Eastern Lowland Gorillas (Gorilla berengei graueri) live in a small national park called Kahuzi-Biega National Park. The national park is named after the 2 extinct volcanoes, Kahuzi and Biega which dominate the park with summits at around 2600 meter above sea level.
One of the last remaining groups of Eastern Lowland gorillas can be seen here. There is estimation that there are only 250 individuals remaining in this national park. The Gorillas live at an altitude between 2100 to 2400 meters above sea-level.
The lowland Gorilla should not be confused with their relatives the Mountain Gorilla's. The main difference in appearance is the size and type of hair. The Eastern lowland gorilla or Grauer Gorilla's are the largest gorilla's in the world! Kahuzi-Biega is the last remaining protected area where these magnificent creatures live and is on the UNESCO world heritage list.
During your tracking you will be able to approach the gorillas at short range. You will spend one hour with them and you are able to make pictures but without flash.
Besides the habitat of the Lowland Gorilla's, Kahuzi-Biega is also an important endemic bird area with an impressive list of 349 species of which 42 are endemic species. If that is not enough, the stunning landscapes will provide unique photo moments.
Depending on what time you finish your Gorilla tracking you can go for the optional activity of visiting the Lwiro Chimpanzee Rehabilitation Centre.
After the amazing encounters with the Lowland Gorilla's you will drive back to Bukavu. Here you can relax or do an optional activity like a boat ride on Lake Kivu or take a stroll along the lake side.
In the evening you will enjoy a lovely meal at Orchids safari club.
Journey Time: 1 hour
Accommodation : Orchids safari club
Meal Plan: Breakfast, packed lunch
Day 6: To Goma town
Your driver/guide will take you to the harbour of Bukavu where you will board the day boat to Goma. This boat ride is a nice relaxing oportunity to see Lake Kivu and its small islands.
Goma is a simple town in Congo but has some interesting sites you could visit. During the 2002 Nyiragongo eruption there are several places in the city completly destroyed several important buildings in the city. The Hotel Volcano names like this after the eruption and the ruined cathedral.
After a short city tour you will continue to Virunga national park where you will sleep at Bukima tented camp. The camp was originally built for researchers, but is now used primarily by trekkers. The views from this tented camp are spectacular. To the south, the view is dominated by Mt. Mikeno, with the summit towering over the gorilla sector. Across the valley is Nyiragongo volcano, whose lava lake colors the night sky with a red glow.
Journey Time: 2-3 hours boat ride, 1 hour to Virunga N.P.
Accommodation : Bukima tented camp
Meal Plan: Breakfast, Lunch & Dinner
Day 7: Mountain Gorilla Tracking
Today is an exciting day and the second tracking of this tour. Today you will stand eye-to-eye with the Mountain Gorilla.
Virunga National park is an UNESCO world heritage site and the oldest national park on the continent! It is a diverse protected areas with the peaks of the Rwenzori mountains, erosion valleys, active volcanoes, forest and even savanna areas.
This national park has been hidden from the public for a long time due to civil war and unrest in Eastern Congo. At this moment it is fully operational and the perfect place to track the mountain gorillas in the wild. Starting at the headquarters in Rumangabo you will go for a challenging hike in search of these gentle giants.
Your track will be an exciting journey along forested slopes, entwined vines, bushes and bamboo before you eventually reach the gorillas' current location. Your guide will point out signs of previous gorilla activity, including dung, nests and chewed bamboo shoots. Once the gorillas have been located, you will be allowed a maximum of one hour with them. Coming face-to-face with a mountain gorilla is a humbling and emotional experience. This is a fantastic and privileged opportunity to get up close and personal with Congo's own 'Gorillas in the Mist'.
Visit the Senkwekwe Gorilla Orphanage
When you are back from the Gorilla tracking you can choose to visit the Senkwekwe orphanage which is located in Rumangabo next to Mikeno lodge. Each of the four gorillas living at the center was victimized by poachers or animal traffickers, and likely witnessed family members being murdered. Thanks to the financial support of individuals around the world – and the loving care provided by their human caregivers – the orphans now lead happy and secure lives in their forested enclosure. Please note that you will not be interacting with the Gorilla's but you can see them from a distance playing and their how their caregivers take care of them. This activity is for free.
Tonight you will sleep in the most beautiful lodge in DR Congo. Mikeno Lodge offers twelve unique bungalows, fashioned with lava stone, mahogany. The spacious bungalows enjoy en-suite bathrooms with stone carved baths and curved stone showers. The private deck allows guests to enjoy the performance of the Blue and Colobus monkeys in the forest.
Journey Time 1 hour
Accommodation : Mikeno Lodge
Meal Plan Breakfast, Lunch & Dinner
Day 8: Nyiragongo Volcano
Your driver will take you to the Kibati patrol post on the foot of the Nyiragongo volcano. You will start hiking at 10 AM in the morning. You will have your own porter to carry your backpack and your personal cook will prepare your meal on top of the crater rim. Remember to come with a backpack with a sleeping bag and warm fleece shirt.
The Nyiragongo is one of the world's most active volcanos and has the world's largest lava lake. This strato volcano recently erupted in 2002 but is predicatable and therefore safe to climb. The volcano's forested lower slopes are home to a variety of animals, including monkeys and bushbucks.
In the late afternoon you will reach the top with an extraordinary view of the crater filled with sea of lava. You are one of the few to admire this spectacle. After a nice hot meal prepared by your personal cook.
At night you can see the sea of lava in the crater which gives spectacular pictures! You will sleep in one of the huts on the crater rim. These huts are very basic at the moment.
Journey Time 30 minutes
Accommodation : Nyiragongo Summit Shelter
Meal Plan Breakfast, Lunch & Dinner
Day 9: To Lake Mutanda
In the morning you will enjoy your breakfast with the breathtaking view overlooking the crater before you descend. Your driver/guide will drive you to Kisoro in the south-western part of Uganda. You will cross the border at Bunagana where your driver/guide is ready to pick you up. You will then continue to Mutanda Lake resort where you will have lunch.
Mutanda Lake Resort is spectacularly located on a private peninsula stretching into Lake Mutanda. With small islands dotting the surrounding lake and a backdrop of misty volcanoes in nearby Rwanda and DR Congo this setting never fails to impress visitors. The main building where the restaurant is located resembles a Swiss chalet with an African touch, the perfect place to enjoy a sundowner watching otters visiting the shore, or to cuddle up next to the fire place. The cottages are built on a wooden platform, each with private veranda and en-suite bathroom.
Day 10: Optional third Gorilla tracking(Optional third Gorilla tracking: US$ 600 per person)
Bwindi Impenetrable Forest boasts both Mountain Gorillas and Chimpanzees – the only forest in Africa which can make this claim in fact. It also hosts five other species of primate, 113 species of mammal, over 200 butterflies and 360 birds.
Today you can choose to go on your Third Gorilla tracking and see the Mountain gorilla's in Bwindi Impenetrable Forest.
You can also choose to relax at Lake Mutanda and enjoy the stunning view!
Journey Time 1 hour to the starting point
Accommodation : Mutanda Lake Resort
Meal Plan Breakfast, Packed lunch & Dinner
If you don't go on your third Gorilla tracking you have all day to unwind, relax, swim or do something else in this wonderful area.
There are several optional activities you can do organized by Mutanda Lake resort. All activities are at your own cost. Transportation can be arranged via the lodge.
Golden monkey tracking in Mgahinga N.P.
Batwa trail in Mgahinga N.P.
Climb the Mgahinga, Muhavura or Sabinyo volcano
Bird watching tour on the Lake
Village walk
Day 11: Departure
Today is unfortunatlly your last day.
The driver/guide of Mutanda Lake resort will take you to Kigali airport in Rwanda in time for your international flight home.
This is the end of what we hope was a wonderful tour through Rwanda, Congo & Uganda.
Journey Time 4 hours
Accommodation: Not included
Meal Plan Breakfast
Dates:
Since this is a private tour, departure can be organised for anytime throughout the year subject to the availability of accommodation and transport.
Rates 2019/2021:11 DAYS UGANDA RWANDA CONGO TOUR
No. of Persons Rate Per Person
2                                 US$ 5390
3                                 US$ 4890
4                                 US$ 4450
Single Supplement: 11 DAYS UGANDA RWANDA CONGO TOUR
One single supplement is included when traveling with 3 persons. Any other single supplement is US$ 560.
Included in the 11 DAYS UGANDA RWANDA CONGO TOUR
Transport in a 4wd landcruiser (depending on the amount travellers)
All fuel for the tour;
English speaking tourleader during your entire trip;
Accommodation as listed in the program;
Meals according to the program;
Park entrance fees according to the program;
All activities described in the itinerary;
1 chimpanzee permit Rwanda per person (value: US$ 100);
1 Low land Gorilla permit Congo per person (value: US$ 400);
1 Nyiragongo volcano climb permit per person (value: US$ 300);
1 Mountain Gorilla permit Congo per person (value: US$ 400).
Excluded in the 11 DAYS UGANDA RWANDA CONGO TOUR
International air fares and entry Visa Uganda & Rwanda;
Visa service DR Congo (US$ 120);
Extra mountain gorilla permit Uganda (US$ 600 or US$ 450);
Meals that are not part of your accommodation;
Personal (medical/travel) insurance;
Porter to carry your luggage for Gorilla tracking and Nyiragongo volcano
Tips and gratuities to rangers, driver/guide, porter, hotel staff, etc;
All expenses of personal nature (e.g. drinks, laundry, optional activities, souvenirs etc.).
The bookings with the hotels mentioned in the program depend on availability. Reservations will only be made after your booking.
In case the mentioned hotels are not available during the requested period, we will do our utmost best to book a hotel in the same class for you (of course we will only do this after consulting you). It is not possible to 'reserve' gorilla and chimpanzee permits.